By Neal Kearney
Santa Cruz isn't exactly the biggest city in Central California, but it's still home to thousands of college students, thanks to our local community college, Cabrillo College, and the "City On A Hill", UCSC. Between the two of these learning institutions, there are tens of thousands of college students living in Santa Cruz at this very moment. Every September, scores of undergraduate and postgraduate students settle in for the long year ahead. College is hard work, and both these schools aren't a walk in the park, despite Santa Cruz's laid back reputation.
With so much hard work being done, it's only natural that these scholars need an outlet to spare them from the overwhelming stress of their coursework. Here are five activities suited for local college kids looking for an escape from the tortuous tedium of testing and the mind numbing memorization.
1) Surf City Billiards
With hard work, one must find balance through play. I know that final was hard, but relax man, I know the best place to blow off some steam. Surf City Billiards in downtown Santa Cruz is the perfect place for a crew of young men and women to grab a bite, have a beer, and challenge each other to a number of game like billiards, darts, ping pong, fusbol, and shuffleboard.
The place is clean, roomy, and there are plenty of tables (15) and dart boards (4), to accommodate big groups.  Another bonus are the flat screen TV's you can use to tune into your favorite sports games. The food is delicious and very fairly priced. My favorites are the sweet potato fries and smoked, pulled pork sliders.
And the drinks! Well, Kelly, the bartender is famous for his killer drinks and eternal good cheer. If you're over twenty-one, he'll make you one of the meanest Moscow Mules you'll ever get the opportunity to get your lips on. All in all, a fun, lively place, perfect for friends to come together, especially big groups.
2) Petroglyph
Sometimes, when the stress and pressure of life as a full time student can threaten to scramble one's brains, it might be a good time to do something meditative. There are many ways to meditate. Some sit. Some walk. Some chant. Other create! Petroglyph, located in downtown Santa Cruz, is a quirky yet calm space for anyone from pro's to average Joe's to appease their artistic side.
To start, you choose a ceramic piece from an extensive array of ceramic pieces. From your standard plates, bowls, and mugs, to intricate figurines, like a menacing dragon or enchanted fairy castle, there are tons of figurines to choose from. From there it's to the paint kiosk where you choose the colors needed for your particular project. There's a huge variety of tools and brushes, and eighty different colors to suit your need.
From there it's time to get in the zone and paint your piece in any way you see fit. When you feel you've perfected your masterpiece, you can hand off your work to the on-site team who will glaze it, fire it, cool it, and have it ready for you to show off to your parents on Christmas in two-to three days. This is a great place to take a date or have a group get-together with your colleagues, as playful conversation and moments of focused silence are a welcome change from ninety minute lectures about Sir Frances Drake
Petroglyph Ceramic Lounge
125 Walnut Ave, Santa Cruz, CA 95060
Hours: 10AM – 8PM
3) Boardwalk Bowl
You're up. There a palpable hush in the air as you pick up your sparkling weapon of choice. You stride up the lane with the confidence of someone who's just completed a 200 mile marathon with two babies strapped to their back. You set your target, take those all important strides to the line then…wooosh! The bowling balls leaves your fingers with grace and lands smack dab in the middle of the lane, a guaranteed strike– you're sure of it.
Slowly, yet surely, your ball starts to veer towards the left and you crumple with defeat as you hear the "clank" of yet another gutter ball. Your friends heckle you for what seems like an hour, yet you can live with another gutter ball: knowing well that you will one day bowl that destined strike. That's what makes the Boardwalk Bowl, located on Cliff Street, right across from Neptune's Kingdom so much fun: you can get both competitive and silly with a big group of friends.
Located only just five miles from UCSC, the Boardwalk Bowl has everything a college kid could want; fun games, tasty fast food, and, for those over 21, pitchers of beer. To sweeten the deal there is a karaoke bar where on you and your friends can live out your dreams of being Justin Beiber or Freddie Mercury. Just pray no one is filming.
4) The Catalyst Club
The Catalyst Club, in downtown Santa Cruz, is undoubtedly the gold standard for showcasing both local and international talent at their venue. It seems like every other week there's some legendary band or artist performing there. From techno to reggae, thrash metal to indie progressive rock, the Catalyst hosts a myriad of different musicians; a perfect platform for college students looking to cut loose and scream till their voices go out.
There are two different rooms within the Catalyst: the smaller, more intimate setting of the Atrium, and the main floor. In the Atrium, considering its size, you are privy to an extremely intimate experience, literally inches away from the musicians. The main floor is standing room only, and spacious enough for a large mass of people dance their brains out.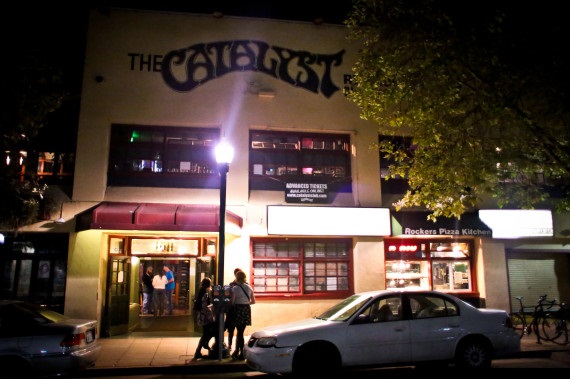 There's also a bar, pool tables, and who can forget Rockers Pizza Kitchen, the small hole-in-the-wall pizza joint connected to the club that serves cheap, yet delicious pizza by the slice—perfect to grab after burning all those calories in the mosh pit. Although doors open an hour before the show starts, there tend to be very long lines, so it's a good idea to arrive there as early as you can. A Santa Cruz staple, the Catalyst should be experienced by every college student, as it offers an unbelievable chance at getting up and close with their favorite musicians.
5) The Crepe Place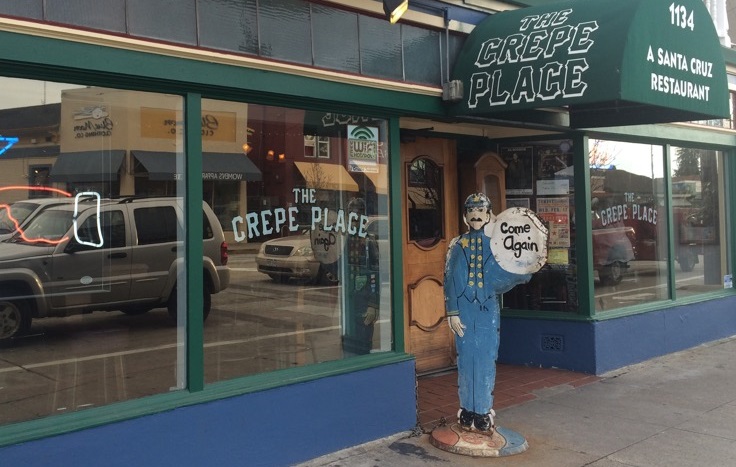 About five miles down the hill from UCSC, is a famous little restaurant called the Crepe Place. Since 1973, they've been serving delicious crepes of all types and flavors to the Santa Cruz Community, especially famished students. What is a crepe, you ask? Well, it's a thin type of pancake made famous by the French, usually made with either wheat or buckwheat.
They can be served for brunch, drizzled with syrup, and laden with fresh fruits. Another favorite is the "Crepe Gatsby" for dinner, comprised of Sautéed Chicken Breast, Sun-Dried Tomato Pesto, Spinach, Feta & Mozzarella Cheeses, Fresh Mushrooms, Scallions, and Tomatoes & Garlic. Sprinkled with Romano Cheese. Is your mouth watering yet? These are just a couple options on the extensive menu.
Along with being a cozy and pleasant place to grab some food and chat, they also host a plethora of musicians and performers on both their main stage and the newly constructed, large outside patio/stage. Almost every night of the week, The Crepe Place hosts these entertainers, from jazz to comedy, hard rock to spoken word. These shows are very popular with the college crowd and for good reason! With such eclectic mix of artists, there's always something new and different to experience. A hip, trendy spot, especially for UCSC students looking for some artsy ambiance and delicious food.